All SOSC classes and services have moved online through the Fall Term
Due to the circumstances surrounding COVID-19, all faculty and staff in the Department of Social Science will be working remotely and are not available for in-person meetings at Keele Campus. The Department is fully committed to ensuring our students get the support they need by various electronic methods. For more information, please visit our
COVID-19 information page
.
If there is one thing that HESO teaches you, it is that you have to look beyond the clouds to see the blue in the sky.
Amanda Pierre
HESO Graduate, Class of 2017
To see health in its social context is to look beyond the limits of medicine, to a much wider set of questions that engage social, cultural, political and moral aspects of human experience.
The Health & Society (HESO) Program provides students with a toolkit for understanding health and illness, both as lived realities and as reflections of larger social, cultural and political processes, on a scale ranging from the interpersonal to the international. We value the kind of practical knowledge gained from experiential learning and seek to combine this with the development of rigorous critical analysis. Taken together, the courses that comprise a HESO degree give students a truly comprehensive understanding of health.
News and Events
2020
HESO Summer 2020 Courses
SOSC 2102, Health Systems in the Global Society, 11:30 Tuesdays & Thursdays.
SOSC 3103, Health: International and Comparative Perspectives, 16:30 Tuesdays & Thursdays.
SOSC 3121, Race and Health, 11:30 Tuesdays & Thursdays.
HESO Second Annual Lecture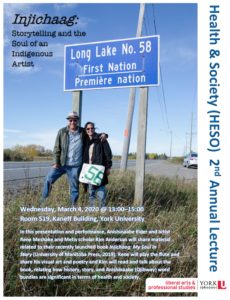 "Injichaag: Storytelling and the Soul of an Indigenous Artist"
Wednesday, March 4, 2020, 13:00-15:00
Room 519, Kaneff Building, York University
In this presentation and performance, Anishinaabe Elder and artist Rene Meshake and Metis scholar Kim Anderson will share material related to their recently launched book Injichaag: My Soul in Story (University of Manitoba Press, 2019). Rene will play the flute and share his visual art and poetry and Kim will read and talk about the book, relating how history, story, and Anishinaabe (Ojibway) word bundles are significant in terms of health and society.
RENE MESHAKE is an Anishinaabe Elder, storyteller, visual and performing artist, award-winning author, flute player, multimedia artist and a Recipient of Queen Elizabeth II's Diamond Jubilee Medal. By blending Anishinaabe and English words into his performances, he communicates his spiritual heritage and poetics. His education includes: Creative Writing from the Humber School for Writers, Anishinaabe oral tradition, language, arts and culture. He has an active on-line presence as a Funky-Elder.
KIM ANDERSON is a Metis writer and educator, working as an Associate Professor in the Department of Family Relations and Applied Nutrition at the University of Guelph. Dr. Anderson holds a PhD in history and is a Canada Research Chair in Indigenous Relationships. Her books include A Recognition of Being: Reconstruction Native Womanhood; Life Stages and Native Women: Memory, Teachings and Story Medicine and Keetsahnak: Our Missing and Murdered Indigenous Sisters.
Click on the poster above to enlarge it.
2019
Congratulations to Prof. Emilia Nielsen for her recent publication "The Problem of Standardized Breast Cancer Narratives" in the Canadian Medical Association Journal! Dr. Nielsen also spoke about the subject in a CMAJ podcast (via SoundCloud).
HESO held a Halloween Mixer on October 31, 2019.
HESO held a Meet & Greet on October 03, 2019.
HESO has a new Twitter account at @YorkU_HESO
The Health and Society program in the Department of Social Science is happy to announce our first annual lecture, Thursday, 14 February 2019, at 2:00pm, with Dr. OmiSoore Dryden (Thorneloe University at Laurentian). Her paper, To Notice Blackness: Blood Codes, "Sexual Deviance," and Health Equity, focuses on the legacies of colonialism and anti-black racism, which shape knowledge about blood and blood safety. Specifically, how contemporary discourses of blood impact Black personhood. Everyone is welcome to this event. Poster.
2018
The School of Nursing is having a talk and book launch featuring Personal and Political: Stories from the Women's Health Movement 1960-2010 with Dr. Lorraine Greaves- Centre of Excellence in Women's Health. Friday, November 16 at noon in the Victor Phillip Dahdaleh Building, Room 1005. More information in the poster.